I. MIGRATION HISTORY IN NYC POST 1948:
Palestinians:
It is quantifiably challenging to estimate the number of Palestinians present in the United States, as although Palestinians have been known to migrate to the United States soon after 1908, the first significant wave of Palestinian emigration did not come about until after the formation of the Israeli state in 1948, at which point most came as refugees (Every Culture). According to the 2000 United States Census, there were approximately 72,112 people of Palestinian ancestry living in the United States; however, a number of researchers are settling on numbers closer to 200,000 (Every Culture).
In the United States, 46% of Palestinians have a college degree, as opposed to 18% of the entire Unites States Population (Every Culture) and partake in white-collar jobs, with those without college degrees more prone to take up small businesses or lay jobs in the service sector.
III. CURRENT CLIMATE in NYC:             
Palestinian Civic Participation:
When I Googled "Palestine in NYC", and all of the relevant keywords, unfortunately not much came up, aside from activist groups like the Students for Justice in Palestine at New York University, which aims to "promote justice, human rights, liberation, and self-determination for the Palestinian people" (SJP), or the Palestine solidarity group, which "came together seeking to broaden the work being done on Palestine by opening up more expansive spaces of resistances"
I learned more about the current climate through my interview with Jumana, the owner of the Tanoreen restaurant (included in our food tour below):
"We don't mix business and politics. Some people come in here to instigate, but we don't allow it here. 80% of our customers are non-Arabs, and we consider ourselves cultural ambassadors. We're cooking all of my grandmother's recipes. We spread our culture through food. "
Food:
Let us go back to hummus, but again, only as a symbol of both Israeli and Palestinian cuisine and where they intersect. Across the ocean, nationals in the United States are using food as a source of connection and collaboration: "On Thursday, hummus will become a symbol of peace as 15 Muslim and Jewish activists break bread together and participate in an all-day bus tour of Maryland, Washington D.C. and Virginia with a message of reconciliation. Bearing trays of homemade hummus and pita bread, the activists hope to spread the message that Muslims and Jews refuse to be enemies" (Huffington Post). This happened just this November 2015, really vibrantly depicting the emphasis that is placed on hummus and cross-cultural foods at the pinnacle of unanimity.
Here in New York City, one of my Uber drivers began telling me about how his friend was the owner of the Israeli Maoz vegetarian food chain, which inspired another interview with a Palestinian Uber driver included in this ethnographic landscaping. In fact, in addition to this, he reminded me that the hummus giant, Sabra, was founded by an American-Israeli entrepreneur, reflective of both the entrepreneurial and cultural ambassadorship of Israelis in the United States.
To that end, a 1976 quote on the website of Mamoun's Falafel shop, which is also included in our tour, reminds us of the dynamism of this idea, which is not a new one in New York City:  "Henry Kissinger can take a lesson in diplomacy. Mamoun has Arabs and Jews sitting at the same table."
Interview w/ Palestinian Uber Driver:
https://soundcloud.com/kitchen-connection/interview-with-palestinian-uber-driver
"Most of the Palestinians or Egyptians, Lebanese or Muslim, their concern is to eat something that has no pork, so if I find an Israeli store or a Jewish store, I'm guaranteed 100% that there is no pork, so I go and buy my pork from there because I know that there is no pork, so that's my priority, #1. No matter if they are from Israel, that's not my concern now. But if I find some other store that has food 100% pork free- no pork, I'll go to the other store"
Above all things, this brings us to the idea that consumption — and all aspects surrounding it pre and post-consumption are reflective of who you are and the community at large that you are a part of.
He proceeded to tell me about the process of the food, of what makes something halal as compared to kosher, and of the nutritional benefits of both of them. It's what 'we share', he said.
PLACES OF INTEREST: 
PART I. MANHATTAN:
1. MAMOUN'S
Address: 22 St. Marks Place, New York, NY 10003
Phone: (212) 387-7747
Hours:  Sunday-Wednesday 11am-4am
Thursday-Saturday 11am-5am
Online: http://www.mamouns.com/
About: "Situated in the heart of Greenwich Village in New York City, Mamoun's Falafel has been serving high quality Middle Eastern Food since it first opened its doors to the public in 1971. It is the oldest falafel restaurant in New York and one of the first Middle Eastern establishments in the United States…Family owned and operated since the beginning, the restaurant is now part of the history and culture of the Village. Its tradition extends to serving the likes of many famous musicians, actors, and other celebrities…
What sets us apart from other Falafel restaurants is our rich tradition and history as well as our commitment to excellence. Our philosophy is simple: authentic Middle Eastern Cuisine served in a traditional environment. Everything we serve is made from scratch using only the freshest natural ingredients, the finest imported spices, and our signature recipes" (Mamoun's)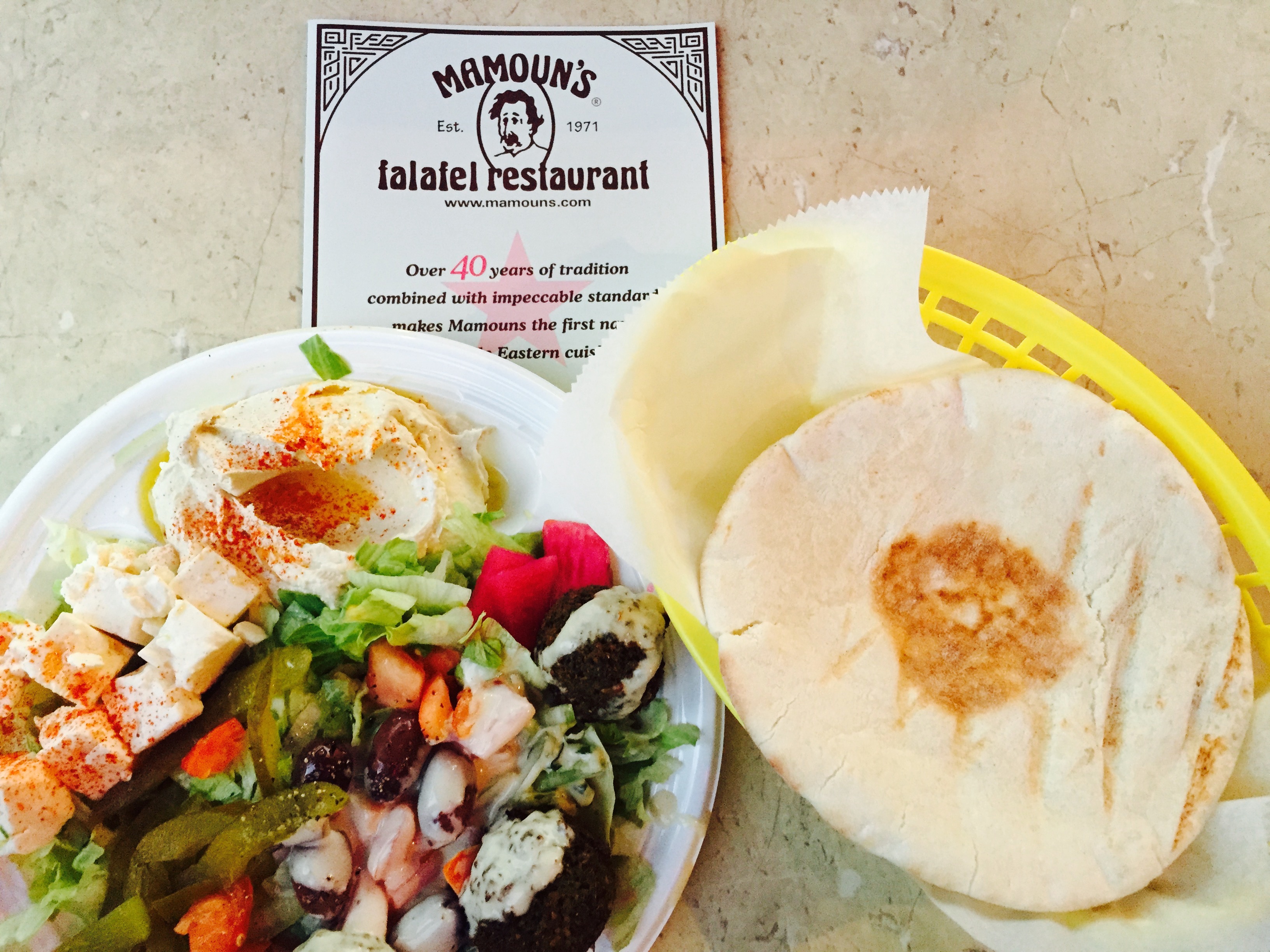 As the self-proclaimed, oldest Middle Eastern Restaurant in New York City, it makes sense for us to begin the food-portion of our tour here. Here we'll select from a range of classic items, including, hummus and falafel, but also more location-specific specialties like their eclectic baklavas and grape leaf dishes. Both Israel and Palestine are influenced by and contribute to the culinary sphere that is Middle Eastern food, so a taste of the Middle East is likewise a taste of Israel and Palestine. Let's let our taste buds decide.
PART II. BROOKLYN
**Tanoreen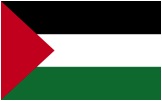 Address: 7523 3rd Avenue, Brooklyn, NY 11209
Phone: (718) 748 – 5600
Hours:  Monday: Closed
Tuesday-Friday: 12pm – 10:30pm
Saturday-Sunday: 10:30am – 10pm
Online:  http://tanoreen.com/
About: "…In 1998, TANOREEN was born to showcase the Middle Eastern home cooking I ate growing up, and reveal how it's evolved since then… I'm not formally trained, but growing up in my mother's kitchen I might as well have been…By that token, Tanoreen has varied in its fusions, but never deviated from its roots, a blend of classical Middle Eastern home-style cooking with delicious Mediterranean aromas. My cooking celebrates tradition and embraces change" (Tanoreen). This place embodies Middle Eastern cuisine; it embodies home, travel, a taste of Palestine in New York City, and all of the goodness that a mother-daughter business exudes. I had the pleasure of savoring many of Jumana and Rawia's dishes, and even chatting with them about their establishment and the Palestinian community in Brooklyn.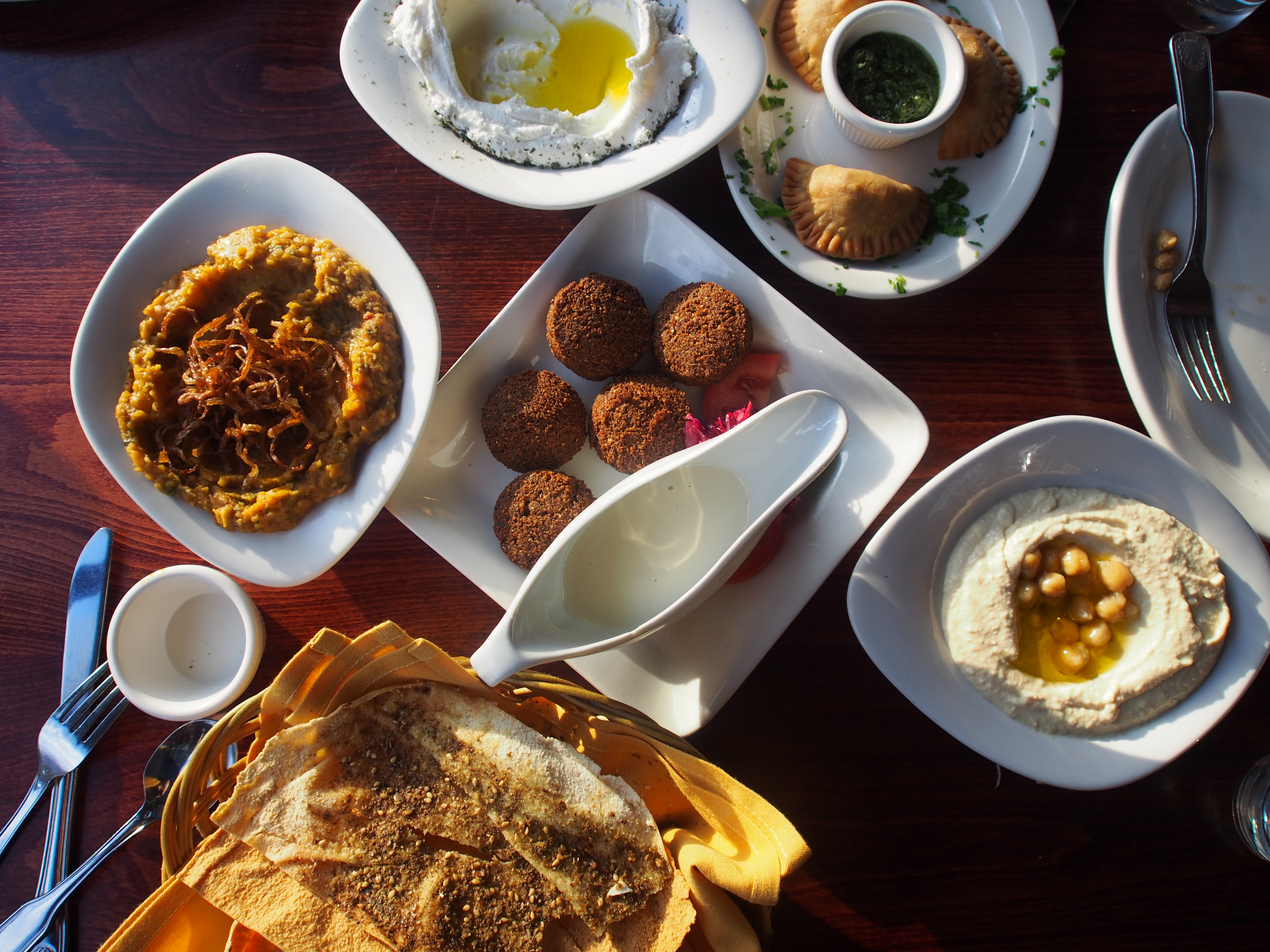 As we end our tour, we will certainly be savoring many of their full-sized dishes, including traditional Mediterranean dishes and Rawia's specialties. Their squash and lamb plates are to die for. For a souvenir of our tour and to recreate some of these delectable dishes back home, pick up a copy of Chef Rawia's "Olives, Lemons & Za'atar" cookbook.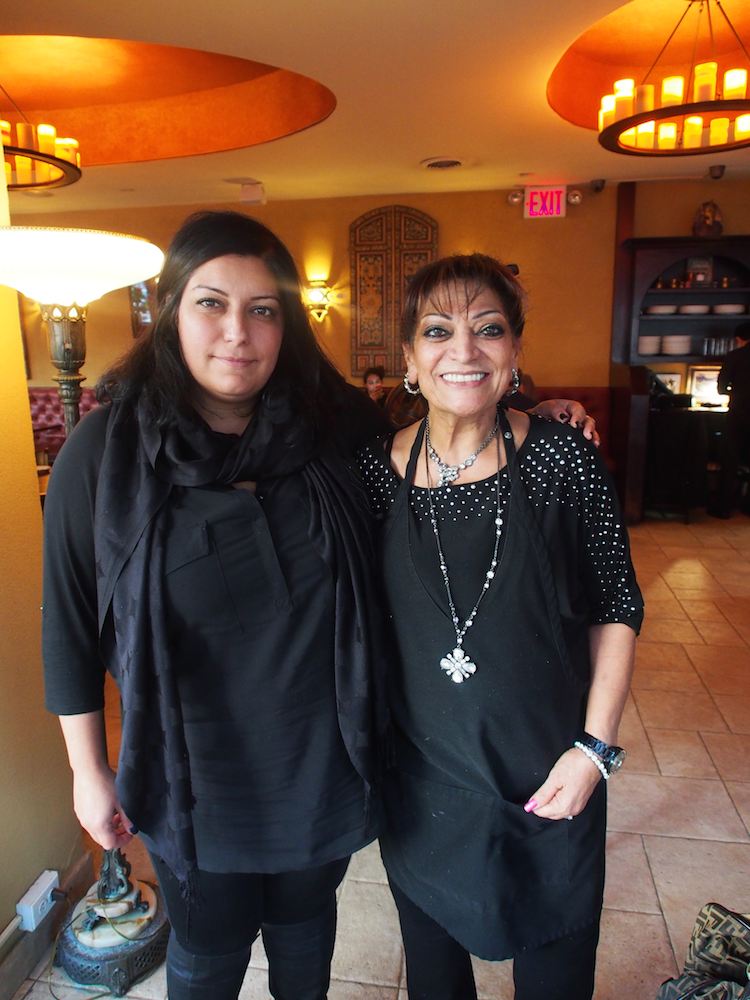 Mother and Daughter, Jumana (Left) & Rawia (Right)
————
Additional Locations:
International Supermarket in NYC – place where spices seem to 'have their own language'—for Israeli/Palestinian goods :
123 Lexington Avenue
New York, NY 10016
212 685 3451
Hours:
M-S 10am-8pm; SU 11am-7pm
MISCELLANEOUS:
Pita Express– Great pita Bread, 'The Best in NYC'
HUMMUS FINDS:
http://newyork.cbslocal.com/top-lists/the-7-best-hummus-plates-in-nyc/
http://newyork.cbslocal.com/top-lists/best-hummus-in-new-york/
http://eatupnewyork.com/the-best-spots-for-hummus-in-nyc-recipe/
http://www.villagevoice.com/restaurants/where-you-can-find-the-best-hummus-in-nyc-6549566
http://newyork.seriouseats.com/2013/01/best-hummus-tahini-dishes-new-york-nyc.html
http://www.tripadvisor.com/ShowTopic-g60763-i5-k5701992-Where_s_the_BEST_Hummus_in_NYC-New_York_City_New_York.html